THANK YOU for visiting the Spitler School Website.
Donate to Spitler School at:
www.razoo.com/SSF.
Donations can be sent through Pay Pal to:  donations@spitlerschool.org.  Checks can be mailed to:
Spitler School Foundation
7733 West Olive Ave.
Peoria, Arizona, USA 85023
Please visit our Facebook site for more recent updates:  www.facebook.com/spitlerschool
We hope that you will enjoy learning about this exciting and worthwhile project, which is having a dramatic impact on the lives of young children in one of the poorest countries in the world.  Cambodia's history, in the last forty years, is filled with war, genocide, poverty and desperation.  With the help of caring people and international assistance the country is recovering, but the hope of the country lies with its children and their ability to lift themselves from abject poverty through education.
The Spitler School was established in 2005 and is now providing a primary education to over 500 impoverished children in the village of Ang Chagn Chass not far from the city of Siem Reap.  It is supported by the Spitler School Foundation, a 501c3 charitable foundation.
This web site will provide you with the school history and a lot of good information we hope that you will also visit our Facebook Page, where you can find the most up to date information about the school's activities.   You can reach this site my clicking the Facebook symbol on the right side of this page.
Thank you again for your visit.  We hope that you will spend some time browsing this site and learning about Spitler School.  We are happy to respond to your questions and inquiries, and we would welcome you to consider becoming a supporter of the Spitler School with a tax deductible donation.  Under the tab marked "our support" you find information and a link to our Razoo donation site for your convenience.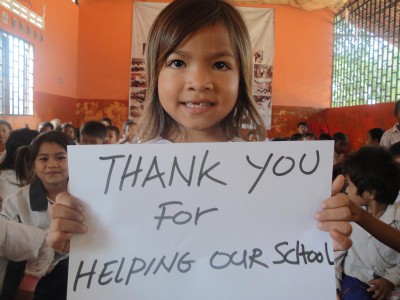 Danny & Pam Spitler, Directors
Spitler School Foundation
501c3 Charitable Foundation
IRS EIN #20-8085411