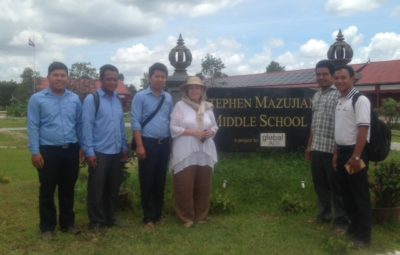 A big challenge  facing our English teachers is providing meaningful instruction to  students with varying levels of English proficiency within each classroom.
We were very fortunate to have Kitty Johnson volunteer her time on a Saturday morning to share some creative techniques with the English teachers from Spitler and Kurata schools.  Kitty is one of four English Language Fellows sponsored by the US Embassy in Cambodia. Her host institution in Siem Reap is the Center for Khmer studies, where she teaches a class in Academic English for archaeologists and historians hoping to study in an English speaking country. Among other projects, she also teaches at APSARA Authority and USEA, and holds a monthly teacher-training workshop at the American Corner.
During the workshop she demonstrated several activities that are effective in heterogeneous learning groups. The interactive (and fun!) session used speaking and writing exercises and games that provide opportunities for more advanced students to learn, while at the same time reinforcing basic concepts for students with a lower level of English proficiency.
The teachers really enjoyed learning these new methods and are looking forward to incorporating Kitty's ideas in their classroom.