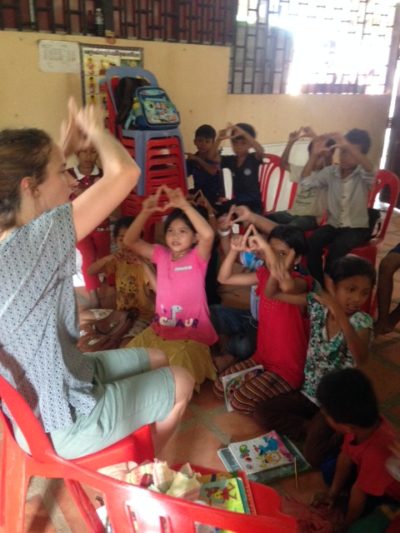 ~Sondra Murphy, Librarian, Massachusetts, USA
I fell in love with Cambodia on an impromptu visit to Siem Reap two years ago.  I was only in Siem Reap for one week, but I never forgot the sights, smells, and smiles I encountered. After returning to my job in the States, I would sit in my office and day dream about returning to Cambodia. I wanted to volunteer and give back to the people who had so touched my heart. Every day on my lunch break I would scour the internet for work or volunteer opportunities offered by trusted NGO's, but there weren't very many available.
I found the Spitler School after broadening my search to include schools. A librarian by trade, I had been looking for something that was library-centric, but once I read about the Spitler School's history and mission, I knew I wanted to volunteer there. Before I knew it, I was on a plane to Siem Reap and visiting the school for the first time!
My month at the Spitler School was spent doing a variety of things. I went through the collection of English language books and organized the collection by reading level and interest. I also organized and filed various documents, teaching aids, and lesson plans created by previous volunteers and teachers. I wanted to make these items accessible to the volunteers who would come after me, so they could get a clear picture of what was available to help them in the classroom.
I had the chance to participate in meetings between all the librarians, which to me was very interesting. I was able to assess library and literacy services in the community and in Cambodia, which gave me a lot of ideas about how to enhance them, and what would be needed to do so. I had many positive conversations with community members, teachers, and children about how Cambodia views libraries and literacy. As I am interested in finding a position as an International Librarian one day, these conversations will be very useful to me.
The best part about my month at the Spitler School, though, was working with the children. I was in charge of conducting play practice with the 5th graders, as they prepared for their annual graduation performance. A spirited and amazing group of kids, we had many laughs as we ran lines week after week. I was struck by how dedicated they all were to learning their lines! It was obvious they had all been practicing at home, and some brave kids even challenged themselves to running lines without looking at the script.
The highlight of the month were my daily English language storytimes for an enthusiastic group of 3rd graders. The number of students ranged from 13-35, depending on how many brought their siblings, or how many curious children from other classes hung out in the doorway, the back of the classroom, and through the open windows. During the hour I had with them, we would sing songs, read books, do a craft, play a game, or do a group activity. What amazed me was their willingness to learn, and their enthusiasm for learning songs they had never heard before. It only took three days for the kids to catch on to the rhythm and lyrics. By the end of the month, they were telling me what songs they wanted to sing! I'd often hear them humming tunes to themselves as they left the classroom and put their shoes back on in the doorway.
Throughout the month I spent at the Spitler School, I discovered that there is something special about the community the school serves. As I rode my bike through the neighboring villages, I'd see my students or other children and families I'd never seen before, and everyone would wave to me and say, "Hello Teacher!" (Pronounced tee-chaaaa) I will never forget the laughs, the high-fives, and the cold water or fruit brought to me by children or the school staff when they saw how sweaty I was after my ride to school! It was a great experience, and I only wish I could have stayed for longer.