"The more you try, the greater the results you have. Everything is in your hands"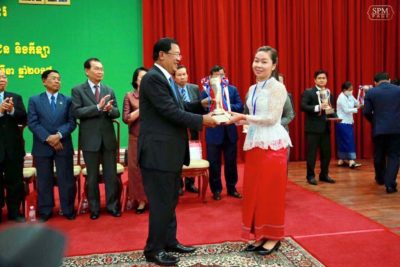 Words of wisdom from 28-year-old Chhiv Ley, sixth grade teacher at Spitler School and this year's recipient of Cambodia's Outstanding Educator Award.
Chhiv Ley was selected after an exhaustive evaluation to be honored as this year's "Techo Sen Champion" for all of Cambodia! She began her teaching career at Spitler School in 2011. She received training at South East Asia University and obtained her Teacher's Certificate from the Provincial Teacher Training College in Siem Reap, Cambodia.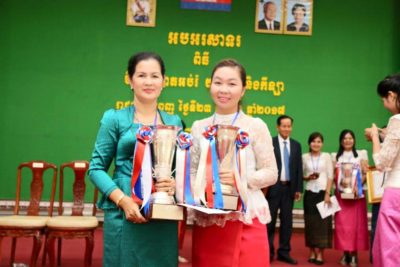 "It was obvious from the moment Chhiv Ley arrived on the campus as a fresh new teacher, that we had someone very special serving the children of Ang Chagn.
Ms. Chhiv demonstrated pride and purpose when she immediately arranged her first grade classroom, decorating all the walls and hanging welcoming ribbons from her doorway.  Others noticed too.  Soon, many of the classrooms became more 'child-centered', well-appointed, and organized for learning.  By her example, and skillful management and modern teaching techniques, Chhiv Ley provided an exemplary learning experience for her young students.  By the end of her first year she further demonstrated strong leadership skills when she was selected to be the Mistress of Ceremonies for the entire End-of-Year Ceremony.  Her leadership, poise and confidence were evident, from the start!"
—Jim Latt, Spitler Foundation Advisor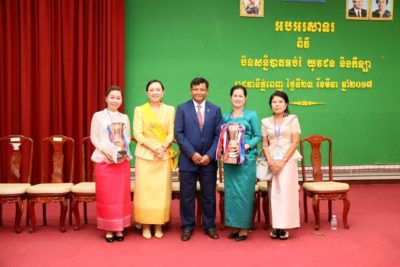 Chhiv Ley taught first grade for 3 years and since has been teaching sixth grade.
She is so very proud to represent Spitler School as an outstanding educator! On March 23, 2017 she was honored with 4 other elementary teachers, 5 secondary-level teachers and 3 school-based administrators at a special ceremony in Phnom Penh. Prime Minister Samdech Akka Moha Sena Padei Techo Hun Sen presided over the event. The Spitler Community of Learners are very fortunate to have such an accomplished and dedicated educator guiding the children.
Chhiv Ley's reaction:

"To become one of the great outstanding teachers over thousands of Cambodian teachers is not easy to do as local teachers have said. We face a lot issues and many factors which challenge us every day. I was absolutely delighted to win this competition. It is like a dream!"
Congratulations to Chhiv Ley, sixth grade teacher at Spitler School, Ang Chagn, Siem Reap, Cambodia!  Cambodia's Tech Sem Champion 2017!